Trip Report: Antelope Canyon and Horseshoe Bend
Trip Report: Antelope Canyon and Horseshoe Bend
The Dog Lady Goes on a Field Trip
Occasionally, as my readers know, I veer off the path of traditional dog writing and give accounts of my travels. Recently I went on a multi-destination jaunt out West with one of my best friends, Desiree. While Havasu Falls, the Grand Canyon, and Zion National Park were on the list, we also visited a few smaller spots. A couple of them were in Page, Arizona: Antelope Canyon and Horseshoe Bend.
Page, Arizona is an unassuming, little town but it has some beautiful attractions tucked in its eaves. The first night we arrived, driving up from Phoenix, we decided to check out Horseshoe Bend. Lake Powell is also in the area, but the views from Horseshoe were too stunning to pass up on our first night in the West.
The hike was easy and for the more adventurous, the free climbing is fun, but not super taxing. Sunset there is amazing. Just watch the breezes and do not go over the edge. I love heights but my friend, Desiree, is not a fan. I like to hang off of objects like a crazed monkey. My life's goal is to climb up things and jump out of things. My travel buddy is not so much about this scheme. We both enjoyed this little side trip though. Sunset was amazing here.
Those
Salomon boots
were great in hot weather and the toe box is great for going down inclines. No smashed toes. You do have to stop and empty the sand out every now and then though, and I do not think they are water proof...not a huge deal in the desert especially with their breath-ability. You can almost wear them straight out of the box...although my friend, Desi, wishes she had broken hers in some more.
____________________________________________________________________
Van, our guide doing a demo of canyon building
Now the largest attraction in Page, Arizona is Antelope Canyon. If you are in the area, it is a must see. You have to book a tour of the canyon as it resides on lands owned by the Navajo Nation. We booked with
Ken's Tours
and I highly recommend them. The tour lasted over an hour and they did not hurry us. Our guide, Van, a fellow military veteran, gave us a thorough history and pointed out all the relevant geological features. He even snapped pics with our phones for us, being a wizard at filters and different devices. My favorite part was at the end, when he demonstrated with a bottle of water and the sand how the canyon was made. It was fascinating and really helped me picture the formation of these awe-inspiring geological wonders. He even made little dinosaur tracks in his canyon creation.
Taking it all in
I'm modeling the
Ferrosi Knickers
hiking pants in paprika here. I love these hiking pants! For hot weather you cannot beat them. They kept me cool, dry, and odor free. They have great pockets and a good amount of stretch for those free climbing moments that so often present themselves out west. They come in a few colors too.
Get them here: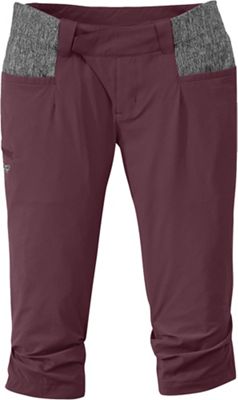 Outdoor Research Women's Ferrosi Knicker
Just a bit of logistics: your phone might do weird things as you head toward antelope canyon. Some parts of Arizona are on daylight savings time and others are not. The tour places should be on the same time that they're on in Page, but check with the tour operator just to make sure you are on time! Also, there are Upper Antelope Canyon tours, but everything is clearly marked and the drive is easy. There is plenty of parking and everyone is helpful. You cannot bring backpacks or bags into the canyon, just your phone. But you are allowed a camel back, so if your backpack has a hydration bladder, you're good to go. The climb down into the canyon requires steep stairs, so make sure you're able to do them before you buy tickets. And of course, make sure to tip your guide.
Happy Travels!
Cheers,
Sammy the Dog Trainer